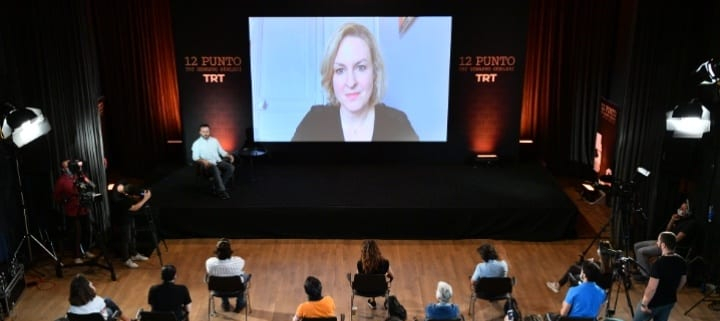 What is the EAVE TRT Scholarship?
The cooperation that TRT has signed with EAVE (European Audiovisual Entrepreneurs), the most important producers network in the world, continues. With this cooperation, a producer from Turkey qualifies for an EAVE TRT Scholarship. The selected producer participates in the 2021 EAVE Producers Workshop, which will last for a year. Then, they graduate from EAVE at the end of a year.
Application deadline: October 1, 2021
What does being an EAVE Graduate bring to a producer?
Becoming an EAVE graduate means for a producer to be involved in a network where relationships are maintained with managers of international film organizations, producers from different countries, directors of sales and distribution agencies, and film festivals.
What is EAVE?
EAVE (European Audiovisual Entrepreneurs) is one of Europe's leading producer education programs, made up of a unique network of over 2200 producers. In recent years, EAVE has been constantly reviewing its training activities and preparing new workshop programs in order to continuously strengthen European independent productions so that they can compete successfully in Europe and in global markets, and to contribute to the sustainability and competitiveness of the producers by reinforcing their creative, managerial and financial skills. Collaborating with a wide network around the world, EAVE participates in programs organized for producers in Europe, South America, the Arab World, Asia, Africa and Russia. Founded in 1988, EAVE aims to create professional training opportunities and facilitate co-production relationships by bringing together producers from different parts of the world.
EAVE Producers Workshop Trailer

What expenses does EAVE TRT SCHOLARSHIP cover?
The producer selected for the EAVE TRT Scholarship gains the right to attend EAVE meetings and workshops for a year free of charge. These expenses generally cover the following:
Application and registration fee
Producers Workshop membership fee
Conference fee for each workshop (participation in events, full board accommodation)
Transportation costs (depending on the city where the EAVE Producers Workshop will be held)
When and where will the 2022 EAVE Producers Workshop take place?
Workshop 1 – Luxemburg, 4-11 March 2022
Workshop 2 – Parnu, Estonia, 10-17 June 2022
Workshop 3 – Barcelona, Spain, October 2022
For more information on the EAVE Producers Workshop, please click here.
Who can apply for EAVE TRT SCHOLARSHIP?
All producers who are currently working in the film and television industry and wish to increase their knowledge and experience in international co-productions can apply for the EAVE TRT Scholarship. Candidates can apply with a fiction, documentary or TV series project they are developing, or they can apply without a project. Since all meetings and workshops will be held in English, the producer applying for the EAVE TRT Scholarship must be able to speak English at an advanced level. You can find the details for application conditions and required documents below.
How will be the application process?
Producers who want to apply for EAVE TRT SCHOLARSHİP are required to fill in the Application Form at the links below and send all the necessary documents to 12punto@trt.net.tr between 17 September and 1 October. Applications with missing documents will not be accepted. Applicant producers can confirm that their documents have been received in full at the phone number below. 5 applications will be selected by TRT from among the applications received. EAVE will conduct interviews with the selected candidates and select the producer who wins the EAVE TRT Scholarship in December 2020.
Click for application documents.
Click for the application form.
---
For detailed information and questions:
+90 (312) 463 24 61
https://trt12punto.com/wp-content/uploads/2021/09/eave_2022.jpeg
435
720
admin
https://trt12punto.com/wp-content/uploads/2022/01/12-punto-2022-logo.png
admin
2021-09-17 15:38:41
2022-01-11 11:42:56
Applications for the EAVE TRT Scholarship 2022 Have Started